Winnipeg Pops Orchestra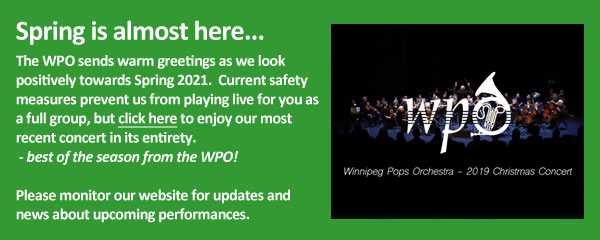 The Winnipeg Pops Orchestra is a community-driven organization that performs popular and classical music. Our dedicated group of musicians have a wide range of ages and abilities, and love to perform across Winnipeg and throughout Manitoba. The WPO orchestra fosters a community tradition by reaching out to young musicians, nurturing local talent, and providing a fun, challenging experience for our members!
Artistic Mission Statement: To provide an opportunity for musicians to practice and perform a variety of music genres from classical to pops, of high artistic quality, in a full orchestral group.
---
Founded in 1956, with an original group of six members, the Winnipeg Pops Orchestra has grown to 65+ members that represent all facets and sections of a modern symphony orchestra. Our group celebrated its 60th Anniversary of musical excellence in 2016.
With numerous live concerts across the city and province, our musical performances will move you to your soul and maybe even get your toes tapping. Visit our Music page to listen to a sample selection of recent concerts, videos and events.
Did you know that your event or venue can book our 50-piece full symphonic orchestra? Let us tailor a concert play list that includes a mix of pops, classical, jazz and big band selections. Contact us today to inquire about hosting a concert at your next venue or event.