Our Musical History in Winnipeg
Originally known as the "Airport City Pops Orchestra", the orchestra was founded in 1956 with an original group of six members. The Orchestra has a current membership of 50+ musicians of all ages and backgrounds, covering most instruments found in a modern symphony orchestra.
Over the first 35 years, the group was led by William H. Lord and then succeeded by Leon Bell after Mr. Lord's retirement.
From 1993 through 2015, the orchestra was led by award winning vocalist and violinist, Mary Ann Taylor. Originally joining the group as a violinist in 1956, her talent and expertise led her to become become Music Director in February of 1993.
About Our Music Director
In 2015, Dave Schmidt was appointed Musical Director and Conductor. Mr. Schmidt is a Juno award winning musician who has performed across the nation, both as a solo artist and with various groups. He has performed twice for Her Majesty, Queen Elizabeth II, the Premier of Manitoba, and for Prime Minister Jean Chretian.
Dave has played with numerous Jazz Ensembles, received numerous awards in both Canada and the USA and has also performed for such events as the Scott Tournament of Hearts, Red River Ex, Manitoba Legislative Open House, World Curling, Canada Summer Games, Political Party Conferences and many more.
Our Performances
The Orchestra has performed in a host of venues and for a variety of events including:
Lyric Theatre - Summer Concert Series
ScotiaBank Stage - The Forks Markets
Manitoba Legislature Canada Day Celebrations (the Forks)
Winnipeg Convention Centre
The Big Sing - Male Choruses of America
The Assiniboine Park Conservatory
Cristkindlmarkt - Ft. Garry Place
Joint concerts with other orchestras and musical groups
Fundraising concerts local and abroad regularly for seniors at Lions Place, and other personal care homes and senior centres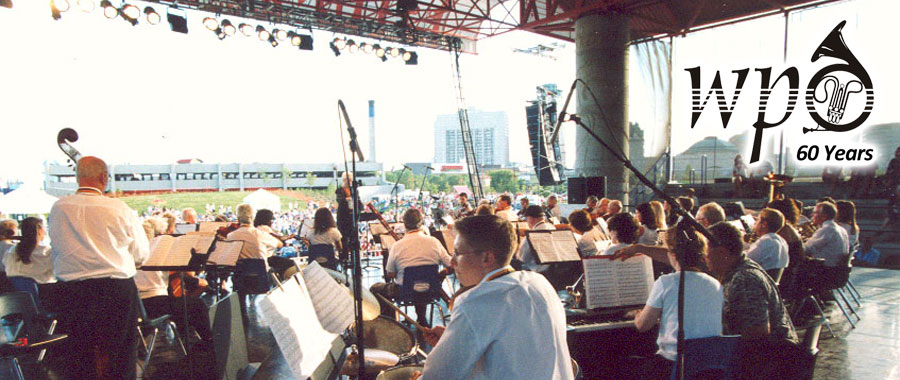 OUR CONCERT SCHEDULE
---
Fall/Winter 2018:
Canoe Club Retirement Home - 40 Dunkirk Drive
Thursday December 20th, 2018 - 7:30pm
(Private Performance)
•
Bethania Mennonite Personal Care - 1045 Concordia Ave
Saturday December 15th, 2018 - 2:30pm
(Private Performance)
•
Riverview Health Centre - 1 Morley Ave.
Thursday, December 13, 2018 - 7:00pm
(Private Performance)
•
Krist Kindlmarket
Saturday December 1, 2018 at 3:30 p.m.
Fort Garry Place - 85 Garry St.
(Free Public Performance)
•
Villa Aulneau - 601 Aulneau St.
Thursday, November 29, 7:15pm
(Private Performance)
•
Riverside Lions, 188 Worthington Avenue
Tuesday, November 27th, 7:00pm
(Private Performance)
•
Lions Place Festive Concert- 610 Portage Avenue
Thursday November 22, 2018, 7:00 pm
(Private Performance)
---
Spring/Summer 2018:
Lyric Theatre Summer Concert Series, Assiniboine Park
Thursday, July 5th, 7:00pm
(Free Public Performance)
•
Riverview Health Centre - 1 Morley Ave.
Thursday, June 28, 2018 - 7:00pm
(Private Performance)
•
River Ridge Retirement Home, 50 Ridgecrest Ave.
Sunday, June 24, 2018 - 2:00pm
(Private Performance)
•
Shaftesbury Park Retirement Residence, 905 Shaftesbury Blvd.
Thursday, June 21st, 2018 - 7:15pm
(Private Performance)
•
Kildonan Personal Care Centre - 1970 Henderson Ave.
Saturday, June 16th, 1:30pm
(Private Performance)
•
Lindenwood Terrace, 490 Lindenwood Dr. E.
Thursday, June 14th, 2018 - 7:15pm
(Private Performance)
•
The Forks Market - "Under the Canopy"
Forks Community Band Festival
Saturday, June 2nd, 6:30 - 7:30 pm
(Free Public Performance)
•
"Partying With The Pops"
John Howard Society National Conference
Fort Garry Hotel, Concert Hall Grand Ballroom
Tuesday, May 29th, 7:00 - 9:00 pm
(Private Performance)
•
Lions Place Spring Concert - 610 Portage Avenue
May 10, 2018, 7:00pm
(Private Performance)
•
Crevier Family Benefit Concert
Centre culturel franco-manitobain - Pauline-Boutal Hall
340 Provencher Boulevard
Saturday, April 28th
Public Performance
Tickets: https://crevierbenefit.eventbrite.ca