"Dining With the Pops For Literacy"
On June 7, 2018, The Winnipeg Pops Orchestra will be the featured entertainment for a very special fundraising event, "Dining With The Pops For Literacy"
The evening was hosted by the Literacy Department at the John Howard Society of Manitoba, who partner with the National Peter Gzowski Foundation for the purpose of promoting literacy awareness. Peter Gzowski was a celebrity author, journalist and CBC Radio commentator, known for his daily show, "Morningside". Upon his passing in 2002, a national foundation was formed to continue Peter's legacy and passion for literacy.
Well-known broadcaster and news person, Peter Mansbridge, will be the guest speaker and the 50 - piece Winnipeg Pops Orchestra providing the entertainment. The event will be held on at the CanadInn Club Regent Event Centre.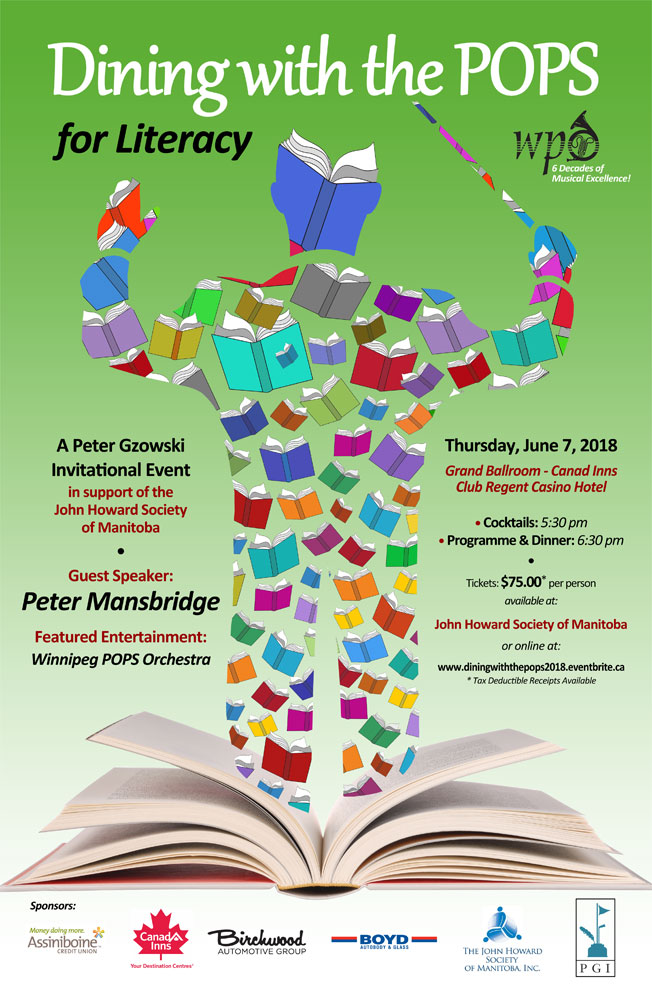 OUR CONCERT SCHEDULE
---
Spring/Summer 2019:
Lions Place Spring Concert- 610 Portage Avenue
April 25th, 2019, 7:00 pm
(Private Performance)
•
Bethania Mennonite - 1045 Concordia Ave
Saturday April 27th, 2019 - 2:30pm
(Private Performance)
•
Riverview Health Centre - 1 Morley Ave.
Thursday May 16th, 2019 - 7:00pm
(Private Performance)
•
Portsmouth Retirement Residence, 125 Portsmouth Blvd,
Thursday, May 23rd, 7:15pm
(Private Performance)
•
Community "Thank You" Concert - Paroisse Ste-Anne-Chênes Parish,
162 Central Avenue, Sainte-Anne Manitoba
Sunday, May 26th, 2019 - 4:00pm - 6:00pm
(Private Performance)
•
The Forks Market - "Under the Canopy"
Forks Community Band Festival
Saturday, June 1st, 2019 - 6:30pm
•
Deer Lodge Centre, 2109 Portage Avenue
Thursday, June 13th, 7:00pm
(Private Performance)
•
Riverside Lions, 188 Worthington Avenue
Tuesday, June 4th, 7:00pm
(Private Performance)
•
River Ridge Retirement Home, 50 Ridgecrest Ave.
Sunday, June 23, 2018 - 2:00pm
(Private Performance)
•
Lyric Theatre Summer Concert Series, Assiniboine Park
Thursday, June 27th, 2019 - 7:00pm
(Free Public Performance)
---
Fall/Winter 2019:
Lions Place Winter Concert- 610 Portage Avenue
November 21st, 2019, 7:00 pm
(Private Performance)
•
Krist Kindlmarket
Saturday November, 30, 2019 at 3:00 p.m.
Fort Garry Place - 85 Garry St.
(Free Public Performance)
•
Holy Redeemer Parish - 264 Donwood Drive
"Classics, Carols and Cookies"
Sunday, December 1st, 2019 - 7:00pm
Tickets can be purchased by contacting the church office at
(204) 669-0501
•
Villa Aulneau, 601 Aulneau St.
Thursday, December 5th, 7:15pm
(Private Performance)