"Welcome Back" Concert
Conductor Owen Clark and The Winnipeg Pops Orchestra proudly welcome you to our "Welcome Back" concert for Spring 2022. Come and enjoy favorites like Lord of the Dance, The Water is Wide, Leonard Cohen's Hallelujah, The Skater's Waltz, Gabriel's Oboe (from the motion picture "The Mission", plus songs and arrangements by Johann Strauss, Astor Piazzolla, Winnipeg's own Anna Schwartz, Owen Clark, Phil Winkless, and many more.
Special Guests Include:
• The Westwood Community Band - Musical Director Virginia Helmer
• Vocalist Michele Wood
• Anna Schwartz and Shirley Elias
• • •

Event Information
• Date: Thursday, May 19, 2022, 7:00 to 9:00pm
• Location: Lutheran Church of the Cross
560 Arlington St. Winnipeg, Manitoba
Free street parking, as well as the Church's North and South lots (NOT behind the church)
• Tickets: Tickets available now, FREE of charge at https://welcomebackwpo.eventbrite.ca. Limit 4 per person.
A voluntary offering will be taken at intermission for contributions to cover event costs.
Covid Protocols - Manitoba Health restrictions will be in place for this event. All attendees and performers must provide proof of vaccination. Masks will be required at all times while in the venue. Please note, this is a scent-free event.
If you have any questions about tickets for the event, please email winnipegpops@gmail.com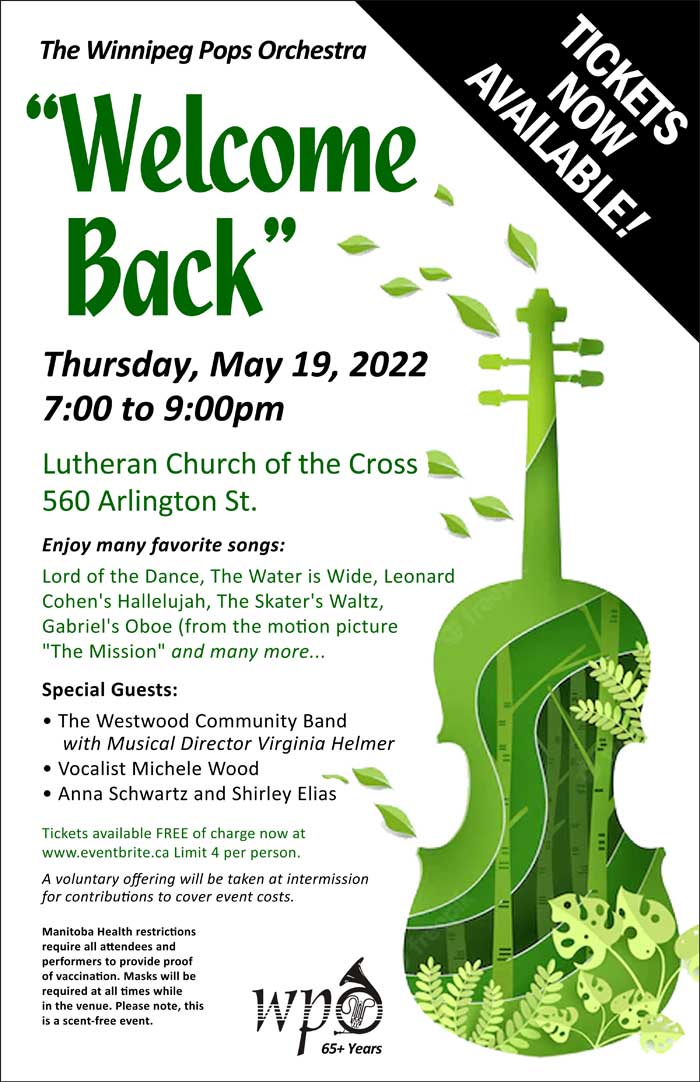 Our Schedule
---
Fall/Winter 2022
Christmas Concert
Lutheran Church of the Cross
560 Arlington St. Winnipeg, Manitoba
December 2022 (Date TBA)
(Public Performance)
•
Villa Aulneau, 601 Aulneau St.
Thursday, December 1, 2022 - 7:00pm
(Private Performance)
•
Krist Kindlmarket
Saturday November, 26, 2022 at 2:00 p.m.
Fort Garry Place - 85 Garry St.
(Free Public Performance)
•
Spring/Summer 2022
Lyric Theatre Summer Concert Series, Assiniboine Park
Thursday, June 23rd, 2022 - 7:00pm
(Free Public Performance)
Concert pics and videos coming soon...
•
"Welcome Back" Concert
Lutheran Church of the Cross
560 Arlington St. Winnipeg, Manitoba
Thursday May 19, 2022, 7:00 pm
Click Here to view concert pics and videos