WPO - "67 and counting..."
Conductor Owen Clark and The Winnipeg Pops Orchestra proudly welcome you to our "67 and counting..." concert for Spring 2023. The Winnipeg Pops Orchestra is in our 67th year, and we welcome you to come and enjoy favorites like Lord of the Dance, Leonard Cohen's Hallelujah, Adele's Skyfall (from the James Bond motion picture), Prairie Song, Morgun by Kenley Kristofferson, El Cumbanchero, plus many other popular and classic numbers.
With special guest vocalist Michele Wood
• • •

Event Information
• Date: Thursday, June 1, 2023, 7:00 to 8:30pm. Doors open at 6:30pm!
• Location: Lutheran Church of the Cross
560 Arlington St. Winnipeg, Manitoba
Free street parking, as well as the Church's North and South lots (NOT behind the church)
• Tickets: Available now at: www.ticketleap.com.
If you have any questions about tickets for the event, please email winnipegpops@gmail.com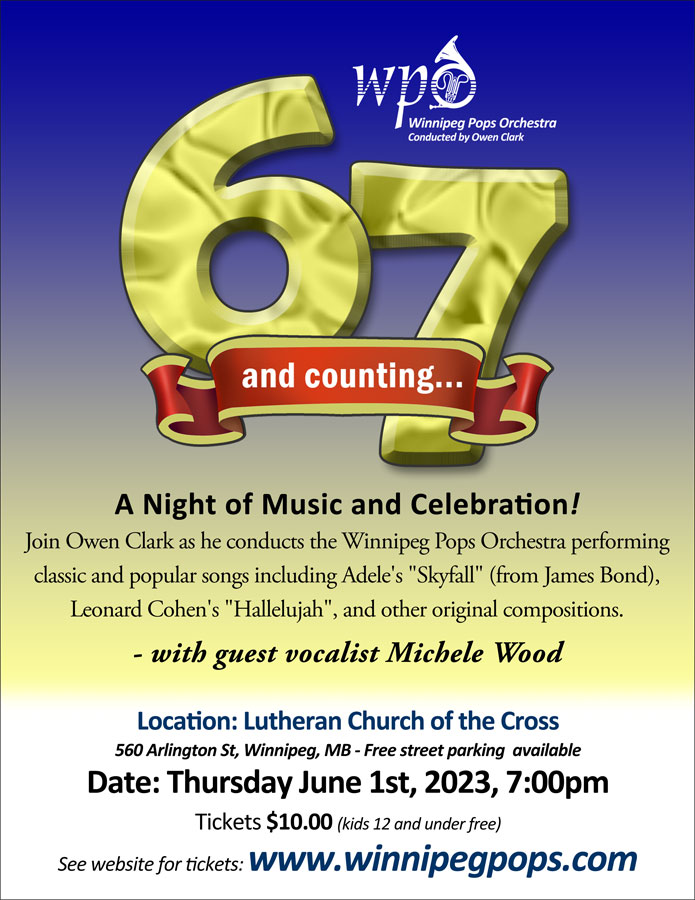 Our Schedule
---
Spring/Summer 2023
Kjell Family Benefit Concert
Lutheran Church of the Cross
560 Arlington St. Winnipeg, Manitoba
Thursday June 15, 2023, 7:00 pm
Click Here to purchase tickets
•
Lindenwood Terrace
Thursday, June 8, 2023 - 7:00pm
(Private Performance)
•
67 and Counting!
Lutheran Church of the Cross
560 Arlington St. Winnipeg, Manitoba
Thursday June 1, 2023, 7:00 pm
•
Riverview Health Centre
Thursday, May 18, 2023 - 7:00pm
(Private Performance)
•
Fall/Winter 2023
Christmas Concert
Lutheran Church of the Cross
560 Arlington St. Winnipeg, Manitoba
Friday, December 15, 2022 - 7:00pm
Ticket information to follow in the Fall