Winnipeg Pops Orchestra
Christmas Concert 2023
Join us as we proudly perform our annual Christmas Concert on December 7, 2023. Selections for the evening include holiday favorites like Christmas Festival, Skater's Waltz, Sleigh Ride, Huron Carol, Parade of the Wooden Soldiers, Advent & Beyond, Silent Night, and more.
The WPO will be led by by conductor Owen Clark as they perform these beloved songs along with original arrangements by WPO members.
With special guest vocalist Michele Wood
• • •

Event Information
• Date: Thursday, December 7, 2023, 7:00 to 8:30pm. Doors open at 6:30pm.
• Location: Lutheran Church of the Cross
560 Arlington St. Winnipeg, Manitoba
Free street parking, as well as the Church's North and South lots (NOT behind the church)
• Tickets: Available now at: www.eventbrite.com
If you have any questions about tickets for the event, please email winnipegpops@gmail.com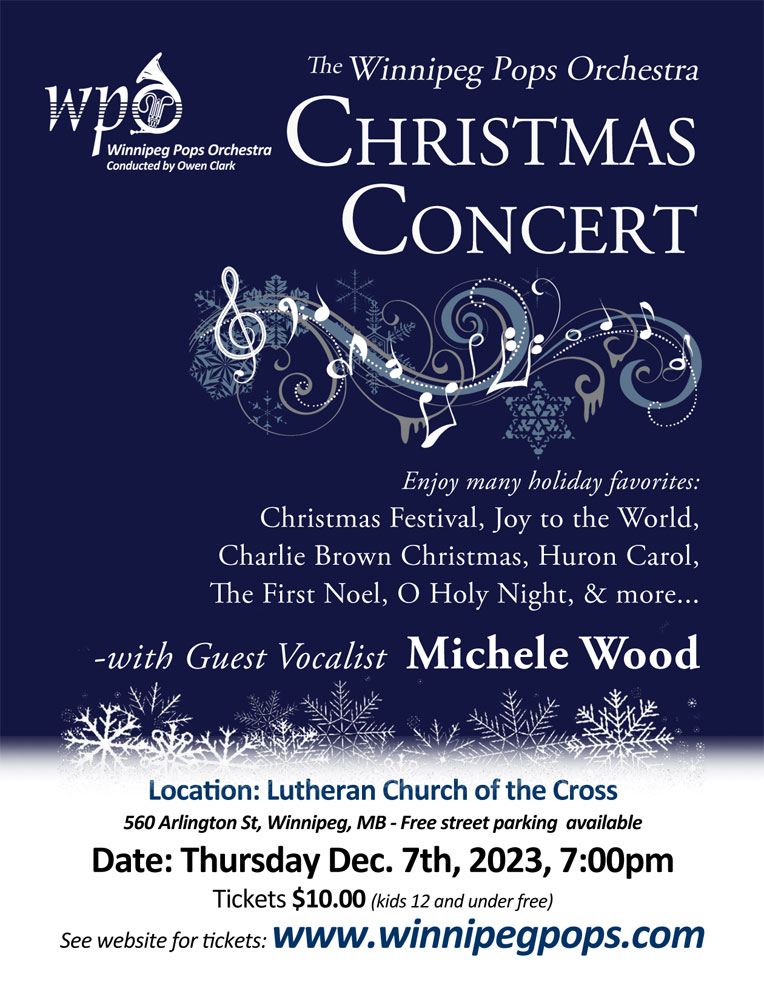 Our Schedule
---
Fall/Winter 2023
Villa Aulneau, 601 Aulneau St.
Thursday, November 30th, 2023 - 7:00pm
(Private Performance)
•
Krist Kindlmarket
Sat. Dec. 2nd, 2023 at 2:00pm
Fort Garry Place - 85 Garry St.
(Free Public Performance)
•
Annual Christmas Concert
Lutheran Church of the Cross
560 Arlington St. Winnipeg, Manitoba
Thursday Dec. 7th, 2023 - 7:00pm
Tickets: Available now at:
www.eventbrite.com
•
Spring/Summer 2024
Spring Concert
Lutheran Church of the Cross
560 Arlington St. Winnipeg, Manitoba
Thursday May 16th, 2024 - 7:00pm
•
Concert with "The Groovy Things"
Lutheran Church of the Cross
560 Arlington St. Winnipeg, Manitoba
Thursday May 30th, 2024 - 7:00pm
Ticket information to follow in the Spring